Forum home
›
Garden design
Border ideas welcome!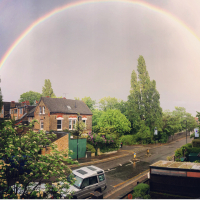 steven.g.garner
Posts: 57
Hello All. I'm working on my borders. This spring I have made various beds and levelled out what was previously mounds of mud and weeds. For the area highlighted in the snap attached, is planned a little pea gravel surface for pots and perhaps even a chair. I have however wondered if a structural hedge would be better, something I can clip very neatly. I've been warned against box where I am (blight!) so wonder any alternatives.
also - any ideas for this space very welcome!