Forum home
›
Problem solving
To weed or not to weed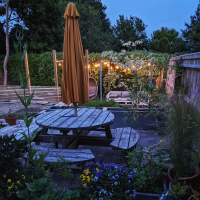 Latimer
Latimer, Buckinghamshire
Posts: 775
Hello everyone!
So i have this little sloping triangular corner at the bottom of the garden that i really have no idea what to do with yet so it's currently just a little dumping ground.
As you can see it's currently overgrowing with weeds but that actually adds a welcome but of green to the garden that mine currently lacks! 😀
Is there anything there that you'd immediately worry about, that could spread beyond that little corner quite quickly?
Thanks all!