Forum home
›
Plants
Perennials in clay soil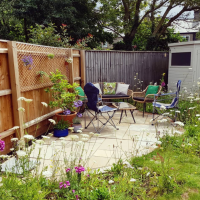 WildFlower_UK
Posts: 236
Last spring we turned part of our garden into a place for wildflowers. We sowed using Beebombs, most of which have come up well again this year. There were some gaps as the Beebomb pellets form clumps rather than an even spread, and this year I've tried sowing some extra wild flower seed in one of the more sparce areas to see how it fairs. In other areas I've planted some perennials which I bought as plants from a garden centre over the weekend. Some were in flower (Erodium manescavii, Polemonium caeruleum blue, lupin gallery yellow) some yet to flower (Papaver yoyal wedding, Eryngium Miss Marble, Campanula medium blue). 
Our soil is heavy clay, and so where I planted the new perennials I made a decent sized hole and filled in with the clay soil mixed with about equal parts peat-free compost and some horticultural grit. I made sure the bottom of the hole had about 2inches of this loose soil mix too, to try and encourage the roots to grow out easier.
I guess my question is about watering with clay soil; should I water roughly once or twice a week with a good deep soaking, or daily but not as drenched? And is it worth me mulching around the base of the newly planted perennials? I'm keen to not mulch the whole area as some of the BeeBombs are annuals and/or self seeding. I already have landscaping bark I could use.
"If you have a garden and a library, you have everything you need"