Forum home
›
Fruit & veg
Using lime in growing tomatoes - yay or nay?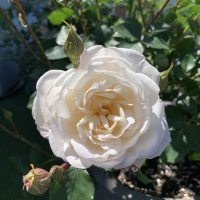 celcius_kkw
Posts: 716
Hi all 
I will be potting up my tomatoes in containers in a few weeks and was doing some research online. I learned that calcium is important in preventing blossom end rot.. and given I'm growing mine in pots that has no access to ground nutrients and most tomato feed doesn't contain it I felt I should be adding some manually to plant. 
The main way of doing this seems to be using egg shells.. but I'm not really an egg eater and each plants seems to require a few eggs worth of shells.. it feels rather wasteful to me to buy eggs just for the shells. I then read one article talking about using horticultural lime.. which to me is a more cost effective way to add calcium to the mix. 
My question is: do you tomato growers use lime to add calcium to your plants and if so how much? I read that tomatoes need a slightly acidic soil to grow well.. won't adding lime affect it as it's alkaline? 
Thanks in advance 😊