Forum home
›
Fruit & veg
Gardeners Delight tomato in pots - advice needed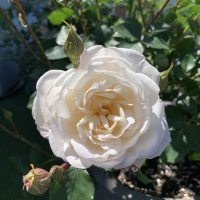 celcius_kkw
Posts: 751
Hi 
I bought some gardeners delight tomato seeds the other day in the supermarket and I'm planning on growing them in pots as I live in an apartment. Does anyone have experience growing this variety in containers? My main question is how big does the container have to be? Does the diameter matter more than the depth or vice versa?
I read somewhere that says although it's more of a cordon tomato plant it can be grown as a bush tomato? I'm not sure how that's achieved - does one just pinch off the tip and let the side shoots grow in that case? What's the advantage of growing it as a bush? Would it allow the plant to tolerate a smaller pot? 
This is my first time growing tomatoes so any friendly advice would be much appreciated. 
Adrian