Forum home
›
Plants
Suggestions for thin shallow border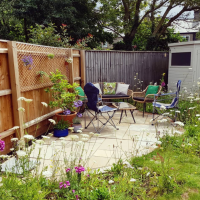 WildFlower_UK
Posts: 236
We've just recently had a new patio laid in our garden's sunniest spot (South Facing). We asked the patio people to only pave up to the fence posts to allow us easier access to the fence should anything need replacing in the future.
Our initial idea was to fill in this gap with decorative stone. However I am wondering whether anything could be planted here? Our soil is clay, and the space is about 20cm wide. Concrete was used to fit the slabs so there's no soil to the patio side (except underneath the patio foundations at about 25cm below top level), and soil fence side.
Do you think anything would thrive here? Open to all ideas; climbers, grasses, flowers (although I don't really like bedding plants personally).
"If you have a garden and a library, you have everything you need"