Forum home
›
Problem solving
Beginner Needs Advice! Clematis Browning Leaves
Olivipe
Posts: 6
Hi Everyone
I am new to this forum and this is my first post...! I would appreciate any thoughts you may have on this subject as I am new to gardening and looking to learn as much as I can.
I have recently inherited a well established garden after a house move. The garden has been left untouched for around 6 years so we are slowly taming it and finding lots of beautiful plants. I have a large flowering (dark pink with light pink edges) clematis growing up a south facing wall. When we viewed the house the display was incredible so I imagine it has been happy in this position in previous years. 
We cut it back to around a foot high as it was a tangled mess come autumn time with dense dead vines at the back. This year I have seen massive growth and trained it up a trellis, spreading the shoots as I go. It has looked incredible and have been very excited to see it bloom. 
I put some horse manure around the base and also gave it some liquid plant feed (doff brand). Other than that I did not water at all as it's mature and in the ground (I assumed I didn't need to!?) however, it has been a very hot dry spell (east midlands) for around 2 weeks now. 
I noticed browning on the centre of the leaves approx 3 days ago, very pale to begin with, eventually spreading and turning the whole leaf brown and dry. I cut these off fearing clematis wilt. Now most leaves are showing signs of browning and I don't know what to do or what it is. Is it clematis wilt, scorch or something else? Nitrogen?
The slight browning is affecting most leaves now and seems to be travelling up the plant but also affecting leaves hidden at the back in shade. 
I have now put a 2" layer of bark chipping around the base in an attempt to shade the roots and have watered it with two huge buckets of rain water. Any advice on what to do to help it recover as I would hate to lose it.
Thank you in advance!
the clematis last June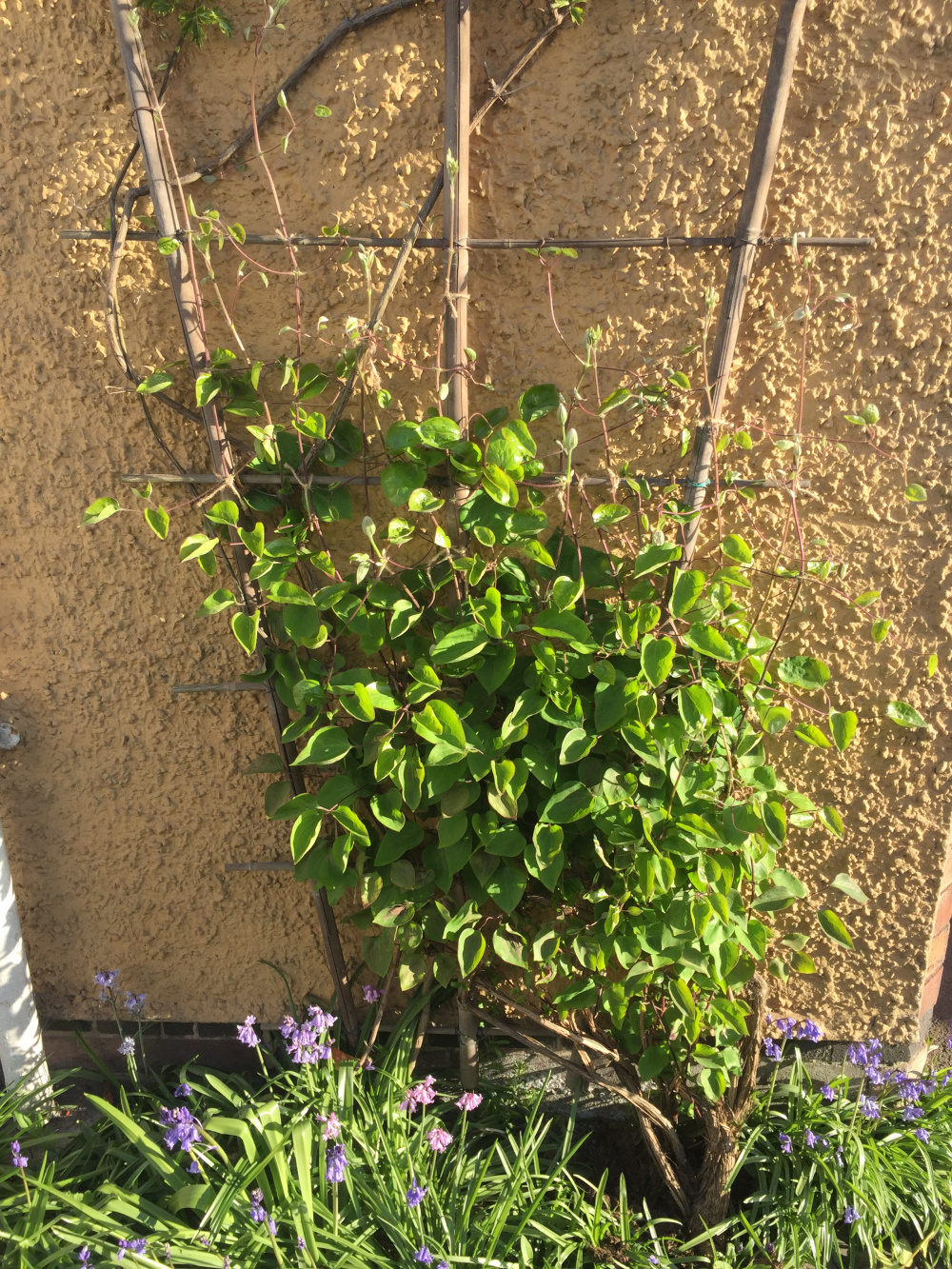 Before any signs of browning
first browning leaves I removed (mainly around the base of the plant)
Clematis today