Forum home
›
Tools and techniques
Pruning Winter Jasmine and Ivy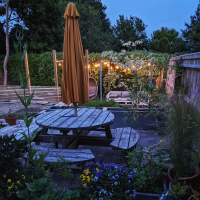 Latimer
Latimer, Buckinghamshire
Posts: 790
Hi all, me again with more questions!
So i inherited the above from the previous owner. The Pyracantha is vicious but i love the berries so I'll keep that, I'm going to clear a lot of the lower branches so i can under plant and just tidy it up.
I have a love hate relationship with Ivy. When it's climbing neatly up the outside of a cottage in the Cotswolds it looks lovely, but up close I find it quite untidy and messy. I also love it when it had small neat little flowers but dislike the big leathery ones.
I also like the Winter Jasmine but as you can see it is just looking really really messy. 
So my question is, can i hack both of these basically back to the ground and start again? I obviously want to fill in that hole in the middle of the fence so would like to retrain them to cover that.
I am also thinking of planting one of the Clematis i picked up the other week to add some spring/summer colour.
Thanks all.