Forum home
›
Tools and techniques
Indoor, outdoor & cold frame distinction and sowing period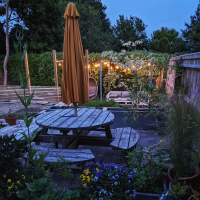 Latimer
Latimer, Buckinghamshire
Posts: 790
Hi all
I have a couple of questions regarding sowing seeds.
I picked up a couple of packets of flower seeds the last time i was out, one of nasturtiums and one of lupins. Both of these i had hoped to use in containers to brighten up the garden while it is in its early stages. 
This is the instructions on the Nasturtiums:
My plan had been to plant them in small seed pots in the cold frame then plant them out into 9cm pots and eventually into larger containers for display. But I don't know where that falls in terms of the instructions. Firstly, am I too late to plant in seed trays or pots? And/or is it too early to try starting them in an unheated cold frame?
Or, is it too late to still start them indoors?
The lupins have similar instructions but if i were to start them this year outdoors, they wouldn't flower until next year.
I've never grown from seed before so this is all getting a bit confusing!