Forum home
›
Plants
Sweet peas pinching - help needed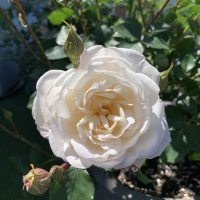 celcius_kkw
Posts: 751
Hi everyone 
I am growing sweet peas from seeds for the first time this year. The seeds I've sown two weeks ago in root trainers are growing well and most of them already have two sets of leaves.
I do have a couple of questions though:

1. the first pinch - some guide says do this when the plant is six inches tall, some say after it has two sets of leaves, some say three, or four... what's the consensus here? 
2. I understand that pinching out the top of the shoot encourages bushier side growth.. if I would like to have LOTS of flowers, would it be advisable to pinch out the top of the side shoots that come out too? Would doing so encourage more side shoots from the side shoots? And if so would that cause the total amount of flowers to multiply? 
3. I am an obsessive gardener and I'm happy to spend as much time on my plants, apart from the pinching regime above is there anything else I should do to get as many flowers as possible in summer? I read about trimming the tendrils.. anything else?

4. lastly, I intend to grow most of my sweet peas as a trailing plant - instead of tying them up a support I intend to just let them flop and trail over my hanging planter and over the edge of my large pots that contain my climbing roses (the pot is 25x25 inches so plenty of space). It's hard to find much information of growing sweet peas in a trailing form..