Forum home
›
Problem solving
Making A Brand New Lawn - It's a mess...
traderneo
Posts: 26
Hello all,
First post and thank you in advance for your help and guidance. 
I have a large section of back garden that for years before I bought the place has been allowed to just grow. It's pretty wild! With crazy weeds growing to hip height and all kinds of spiky ugliness.
I decided I want to get a lawn started for the summer. 
Here is what it looked like about 3 weeks ago this after a pretty big start on it.
(The electric trimmer was useless!)
I got a commercial grade strimmer and cut it all down to ground level. As you can see it is covered by a very shallow root 'wild grass' that has a straw-like quality. It's lumpy and clumpy and would be useless as a lawn. Closer look here:
It comes away with a little effort and the roots aren't deep. The soil underneath while not all clay, in about 50% of the area in question clearly has a high clay content. This is what it looks like underneath. These pics also taken today after the 2 large storms we have had so the soil is saturated more than normal. However, there is a fair bit of clay clearly in the surface.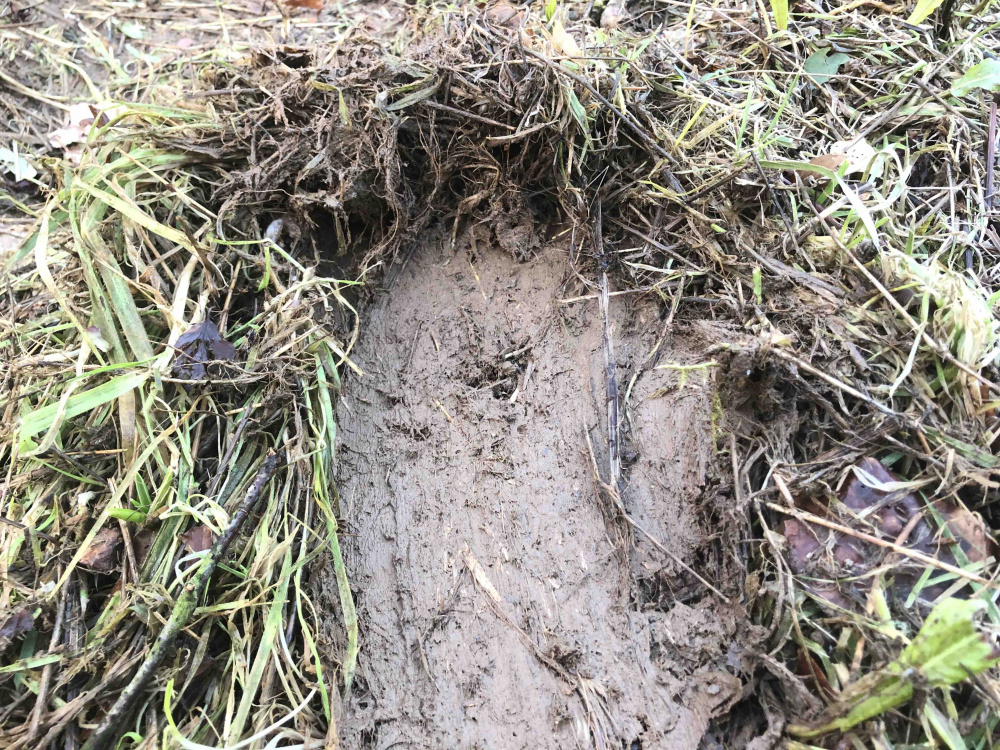 I was advised by my local garden centre to spray and then get a scarifier to strip off this grass layer. This turned into a bit of a joke, the top layer is so dense and full of roots and weeds and rubbish that the scarifier would last all of about 20cm and then be completely clogged up, weigh a ton and stop working. So that didn't work. 
So I bought a fantastic little rotavator and using the scarifier option began slowly stripping off the top layer of growth. 
This is how it looked before and after:
Really, REALLY heavy going but it then allowed me to till the soil down to a depth of about 15cm and begin to create a little bit of level ground that isn't completely overgrown. 
Here is where we are today: (Its very wet after the weather!)
This is the more heavily clay area at the top of the garden. (Area B in the final pic)
This is the lower area (Area A in the final pic), probably 50% of the area I want to lawn is not as heavy in clay, but its very much lower in gradient and gets a lot of water running off over it. The soil is darker and less dense (still quite a lot of clay though!) but also has MUCH more deep growth/roots in it. As I till I'm hitting roots and bulbs like you would not believe. So LOTS of deep stuff growing down there. Here is what it looked like after top clearing:   
AFTER:
Now: I have had the first of 4 tons of topsoil delivered today. Again, VERY wet but a completely different and much darker shade than anything currently in the area.
So this is the end result: Area A is on the down slope, has more of the roots and bulbs. Soil has less clay and this is where I plan to put most of the topsoil. 
Area B is much more clay, more of the stringy grass and much more 'dense'. 
So after all this here is my question:
If I continue to till the soil all over, I am breaking up the surface quite well and I can add topsoil as necessary to make a 2-3cm top layer over most of the area. 
1) Will I not just be giving everything I have removed the chance to grow back? Once I have cleared and levelled and prepped the area and put down grass seed, won't the new grass just be strangled by all the stuff that was growing there before as it grows back?
2) What is the best grass seed to use? The area is in full sun, but as you can see has I high clay content and needs to be reasonably hard-wearing. As you can tell I am happy to make the effort by regular maintenance but don't know what seed to choose?
3) Is there anything else I should do NOW before I continue to till/rotavate the soil, tearing out the bulbs and roots of existing growth, like treatments or weed killers or anything?
I plan to have the surface finally prepared (weather permitting) by the end of the weekend and ready for grass seeds next week. 
Help! I don't want all the old stuff growing back and I would like the start of a reasonable lawn by the time summer is in full swing. 
I am enjoying doing it all myself, no desire in hiring a team from a turf company to do it all for me.
Thank you again and I will aim to answer as many questions as you may have in as much detail as I can. 
HP