Forum home
›
Plants
Roses -Winter pruning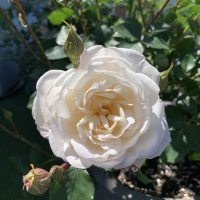 celcius_kkw
Posts: 751
edited February 2020
in Plants
This is my first year of growing roses and I am just about to start the major winter pruning of my first year roses in pots. 
Has anyone started doing this yet? I live in Liverpool so the weather is not the coldest and the temperature has been consistently above 0 for a couple of weeks now. 
Most of my roses have not naturally defoliated (all but a couple are David Austin). So far I have pruned a few quite extensively - I have manually defoliated them and trimmed back to about 20cm above ground. 
Few questions I have in mind though: 

1. I have added little pebbles to some of my pots and I wonder if I should scoop them all up in order to allow me to clear away any dead foliage in the soil more effectively? 
2. Given it's been a rather wet winter some of the top layer of soil in my pots have turned green with algae, should I dig that layer up and add some fresh compost instead? If so, should I do it now or wait till it's a bit warmer in spring? 
3. Mulching and fertilising - again should I do it now straight after the major pruning or should I wait till March. 
4. Some of my roses are already showing signs of growth with new shoots already popping up.. should I trim down to below the new shoot? Also if there is clearly a bud eye or even new shoot that is inward facing should I manually pick them off to prevent them clogging up the centre of the plant in summer? 
5. A lot of rose gardens seem to be able to get all their roses to bloom at the same time and generate a really impressive sea of roses in summer - is there any way of doing this as the amateur gardener? I'm planning to prune all my roses around the same time in the hope of achieving this...
I'll post some pictures later on, would love to see how you guys prune your roses too.
David Austin website says one should aim to achieve a rounded shrub with the pruning but does that mean the outer canes should be trimmed shorter than the ones in the middle? Is there some sort of rule or trick to get it look 'rounded' ? 
I'm going to tag
@

[email protected]
too for some extra advice
Adrian