Forum home
›
Plants
Best type of grass seed for a problem path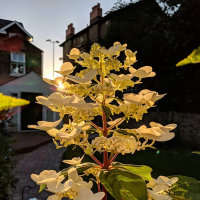 amancalledgeorge
Posts: 2,309
Morning all,

As part of our garden design we have an elliptical grass covered path. It was laid with turf last Spring but it has been patchy and now the area looks very muddy and is defeating the grass. In early Spring we are thinking of digging up the area and giving another try with seed.

So was wondering anyone has any experience with any specialist online sellers of grass seed. It's odd that the area is so muddy as it has a mature apple tree in its middle and quite a few trees next doors so you'd think they'd absorb the moisture...but it must be related to any topspoil that was added during the hard landscaping works the year before.

We will try to improve the drainage as much as possible but would love some suggestions of what type of seed to use for an area that gets light shade from a mature apple tree and is designed to be walked upon not to access the planting areas either side a few times a week. I know retailer sold mixes are not up to scratch with a scenario like ours so any advice gratefully received.
To Plant a Garden is to Believe in Tomorrow