Forum home
›
Plants
Tall 130 litre pot ideas welcome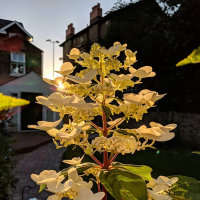 amancalledgeorge
Posts: 2,309
Morning all,
A nearby ex-Wyvale garden centre had discounted the RHS endorsed Apta tall pots to a mere £34 each from £119 and treated myself to a couple.
I will place them on a patio area at the end of the garden which gets a lot of light and bits of sunshine morning and evening. In such a big pot it makes sense to me to try either a dwarf rooting stock fruit tree or to go ornamental with a pair of Chinese Red Buds (Cercus Chinensis) varieties Avondale or Ruby Falls or even maybe a Persian Silk Tree (Albizia julibrisin) but the latter I'm concerned it stays dormant for such a large part of the year. 
My style of planting is quite loose with the odd formal accent with an emphasis on Chinese and Japanese plants. I'm based in London so pretty warm all year round.
Feel free to throw ideas my way in case I have missed something really obvious.
Here's a photo of the container for extra clarity 
To Plant a Garden is to Believe in Tomorrow