Forum home
›
Problem solving
Creating new flower bed on lawn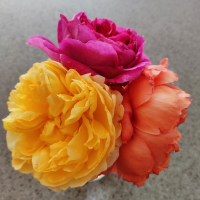 newbie77
Posts: 1,784
In my previous garden i created a small new bed by digging up lawn and pile up dug over turf in a hidden corner. Fill up the new bed with compost(used and new) and plant. There was one problem though, the bed sunk over time as compost compacted and used to get waterlogged. may be I should have filled a lot more compost than just leveling up with lawn or may be used a better method... 

Anyway in new garden, firstly it is going to be a very long bed, 100ft x 6ft with some cureved areas wider than 6ft, so quite some digging and i dont have enough space to hide dug up turf. I cant really buy enough compost to pile much higher than current lawn level. I tired digging up an area and grass root+soil was almost 6-10 inch thick. 

Can I lay cardboard on lawn on turf and just cover with compost and plant on top? Can I dig up turf, lay it soil side up and turf side down in the dug up area and cover with layer of compost and plant? I cant buy sleepers or any edging material to create raised bed.
South West London