Forum home
›
Plants
Disinfecting Secateurs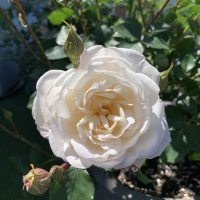 celcius_kkw
Posts: 751
Just wondering what do people generally use to clean and disinfect their secateurs after pruning of diseased plants, say roses with blackspots or fungal infections? 

Ive read about use of bleach (but I'm terrified of the idea of using bleach) plus I wonder if the secateurs have to be rinsed after being dipped in the bleach solution? Doesn't it take forever to fully rinse out the bleach solution from the instrument? I mean whenever I have a bit of bleach on my hand it takes FOREVER to get rid of that slippery feel. I don't want to spend all day rinsing my secateurs when I've got more pruning to do. 

The second option I came across is methylated spirit which sounds more pleasing to me, firstly they're ready made unlike use of bleach which requires making up the solution. Secondly it should rinse very easily. 

So so what would you guys recommend?