Forum home
›
Plants
Training climbing roses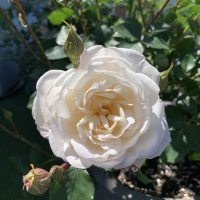 celcius_kkw
Posts: 751
so I recently bought a couple of climbing roses and have been reading about the training process. I gather that the main canes are the ones that just be trained at 45 degrees to horizontal to increase vertical growth/blooms. 
Now my current issue is the identification of these 'main canes'. It's obvious if the canes arise from the bud union but the one I've got at the moment has these canes that arise from the bud union and then appears to stop abruptly - see white arrow (blind ended) and give rise to lots of branches on its side (pink arrows). 
So would these pink arrow branches count as main cane or would they be considered as lateral cane? Given the 'main cane' that come from the bud union is actually blind ended does this mean I should just assume that cane itself is a goner? 
Ive also read that all canes that arise from within a foot from the soil should be considered a main cane in which case these pink arrived shoots should technically be main canes? I'm so confused!
a few more pics to illustrate the situation