Forum home
›
Problem solving
Mosaic virus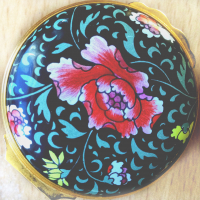 Emerion
Carmarthenshire
Posts: 442
Last year I had a mild case of what I think was mozaic virus on my cucumbers and aubergines. I did my best to keep on top of it, but this year, crops have been very badly damaged. Courgettes, cucumber, aubergine and French beans are all pretty much destroyed. 
I've burnt the beans, so no evidence to show you, but this is it on the  aubergines. It looks like exactly the same thing, although it is apparently a different virus. 
Has this been a particularly bad year for this problem, and does it live in the soil? Could it survive on the surface of the poly tunnel itself over winter? It's hard to thoroughly clean all of the inside of the tunnel as it's quite tall. 
The RHS mentions resistant varieties of some crops. Have you found that this makes a difference? 
Feeling like not bothering with these veg next year, which would be a pity as we love all of them. Is there any hope? 😁

Carmarthenshire 
If at first you don't succeed, have some cake.