Forum home
›
Wildlife gardening
Making barley extract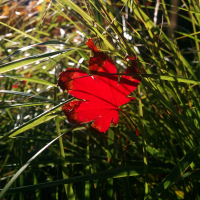 micearguers
Cambridge
Posts: 605
Have people attempted to make barley extract themselves? The commercial products are quite expensive I think. I assume a bottle may last quite a while, still it is yet more plastic and more importantly, it would be fun to make it.

I could not really find any instructions or experiments on the web. Two weeks ago I put a large bundle of straw into a bucket with some stones on top and put water in it. Yesterday it had a stink of a smell, indicative of an anaerobic process. I've decanted it and mixed it with rainwater. Now planning to use some of it.

Once concern that I have is ... do I have barley straw? I bought it in a pet shop and was told it was barley straw. Pictures online do look the same as what I have. Is it commonly used for rabbit hutches and chicken coops?

Anyway, some mystery surrounds the barley straw extract. I've read in a few places that barley straw acts as an algae cleaner by releasing hydrogen peroxide in low quantities during the decomposition process. This raises the question: If that's true, how does the commercial barley extract work?