Forum home
›
Garden design
New bed on a bank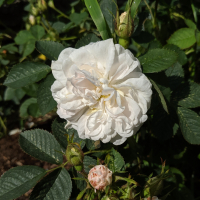 jonathan.cole
Posts: 221
We've got an area on a bank that I am struggling to work out what to do with.

It is about 5 metres wide by 2.5 metres deep and on maybe a 40 degree slope. It's being built up with soil from elsewhere in the garden which is clay-based.
The bank faces South but gets quite strong wind. At the back at the top we already have a forsythia and a rose (alba Maxima).

We were thinking cottage garden style, but I'm a bit lost. It feels like it is too steep to follow the usual tall plants at the back, short ones at the front. It will also be bare earth shortly and it would be nice to do _something_ with it.
Any ideas?