Forum home
›
Garden design
What to plant in newly empty corner
Mander
Gateshead
Posts: 209
I've been clearing up my overgrown and neglected garden (in NE England) over the last few weeks. One of the tasks was cutting down a volunteer alder tree, which looked nice but was in a bad location. I also pulled up some general weeds and volunteer shrubs (mostly cotoneaster of some kind). I still need to get an implement to take the rest of the tree down and do a bit more clearing of small weeds. I might paint the fence, too, as the neighbour obviously skipped this bit. 
In the meantime I have some plants elsewhere in the garden that are currently functioning as weeds but could go here instead. The candidates are volunteer hypericum and a well established flowering quince that was put in a stupid place by the previous owner. The other idea was maybe a blueberry that is currently in a pot and very sad.
The quince might be a fall project but I have successfully propagated it once so I will try that again as insurance. It might be fun to try and do some kind of espalier against the fence. Maybe it could go in the back with a hypericum in front?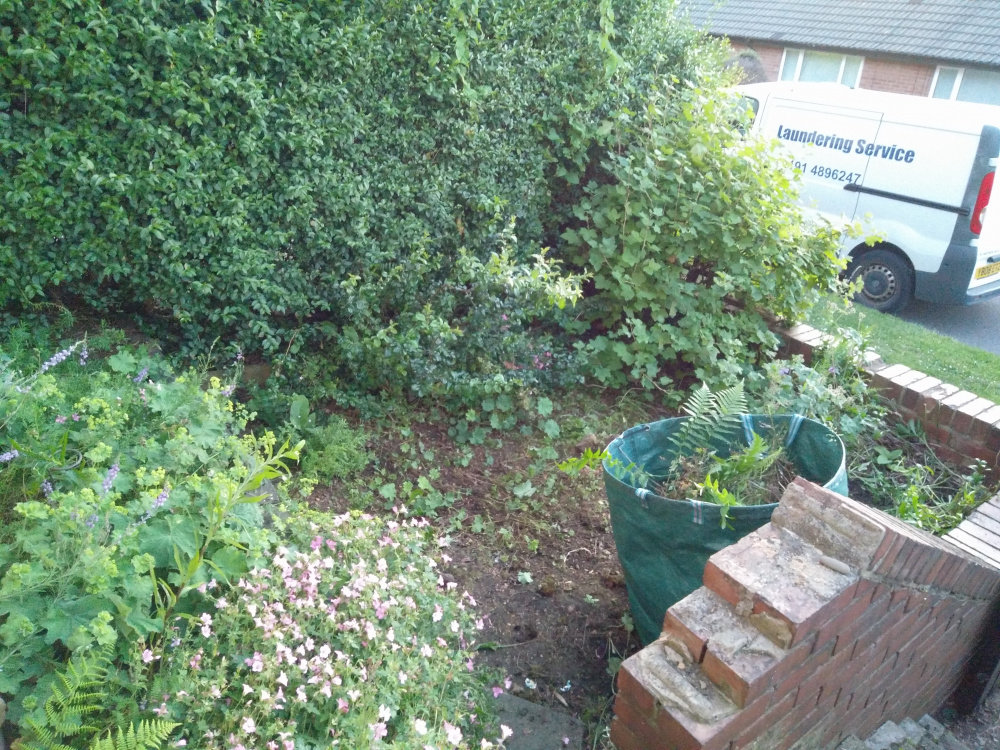 (not even sure if you can see the quince here. It's right in the middle, against the privet hedge, which makes it a bit difficult to cut the hedge without getting stabbed by thorns). 
I'm not great with soil types but it seems pretty standard stuff, possibly a bit acidic and clayey. The area is the bit between two houses, facing north, but gets a fair amount of sun. It's also sheltered on one side by the neighbour's fence.
The garden is a mess generally but I do prefer a wild, rambling look. The current mess is home to plenty of birds and invertebrates, though sadly I've only seen a hedgehog once. I'm aiming for something that looks a bit neater and is easier to maintain but is still relaxed and wildlife friendly.