Forum home
›
Problem solving
moving home - taking garden with me!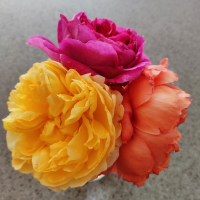 newbie77
Posts: 1,784
No one has any objection. New occupant in my current house would prefer larger lawn and low maintenance shrubs so I can take my high maintenance perennial garden with me to my future house. Given a choice I would prefer to buy whole new set of plants and not bother taking plants with me but the after the purchase i will be totally cashless for a while and i also have attachment to my current plants. 

I am thinking may be get some plastic pots or poly pots. Dig up and divide (if needed)  and put in pots and arrange for some van to take it. I am talking about atleast 200 plants.

1. Is it a crazy idea?
2. Has anyone done it before and happy or regretted?
3. Would poly pots be better than plastic pots? They are cheaper and might take less space but at the same time doesnt look like i can reuse it in future. Also I may not be able to dig up whole beds and plant out everything for couple of months so may be plastic pot can keep plants better over the winter.


South West London