Forum home
›
Fruit & veg
bleached out leaves on tomato plant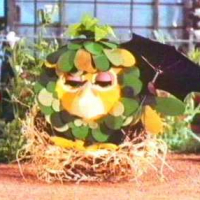 REMF33
Posts: 717
Hello
I have a tomato plant (Gardener's Delight) which I bought from a garden centre some time ago. It's only lived in doors since I bought it, although for the last two (sunny but not hot) days it's been outside during the day whilst my sitting rpoom was been painted. It's leaves have been a bit droopy for a while, and the stems don't seem as healthy as normal plants, but today I noticed that some of the leaves also look bleached.
It's been in its final big pot for just over a week. I gave it a good (too good?) watering and feed a couple of days ago. It is flowering and fruiting. I had a tiny seedling which was sitting in the same tray which also seems to be bleaching. Could this be too much water? Too much food (is this possible?)
I have never had this before, but I have also never kept a tomato inside for all its life before. One obvious concern is if it's a disease, as it is currently sitting next to six healthy looking 10 inch tomato plants (dfferent varieties.)
Does anyone have any suggestions?
I