Forum home
›
Plants
Dahlia Dilemas
TimmyMagic
Posts: 135
I am hoping for some advice on planting dahlias. 

I stored them over winter in our shed. They were wrapped in newspaper and put in a large cardboard box. Before doing this I divided them as some were in huge clumps. I'd never done this before (a year ago I'd never heard of dahlias!) but I followed a video on YouTube. I could not see the 'eyes' very clearly so didn't go overboard.
Anyway, I have just unwrapped them and they seem to have survived. There were just one or two that were rotten but it did not spread. Here they are indoors as of 10 minutes ago:
#Q1 - I read that the 'eyes' are more visible in spring than in autumn. Are the bits with growth the 'eyes' and if so, should I divide more? Such as split this one down the middle...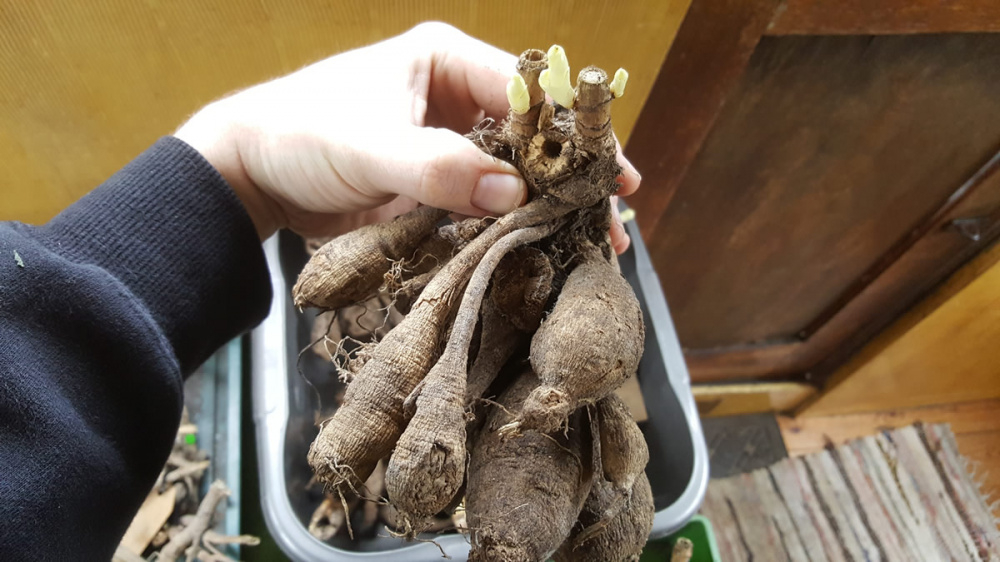 #Q2 - Some of the tubers are very shriveled / dehydrated. Should I soak them in water before planting? Such as ones like these...
#Q3 - I have a few that are very small, which I thought did not have an 'eye', but I kept them just in case. There is growth at the very top, so will these be okay? Such as...
#Q4 - One batch did not flower last year. They have the most sad looking tubers. Does this mean they are unlikely to grow again? There was lots of foliage but no flowers. Here they are...

They were the only ones that did not flower and they are the worst looking tubers by far, especially this one above. I'm guessing it's a goner!


#Q5 - Last year most were planted in pots. This year I want to plant direct into the flower bed as there is space. But should I start them off in pots then transfer them? I've read that snails are a pest and I guess putting in pots first would offer protection. Or is it okay to just plant them out now (or very soon)?
#Q6 - Is it still too early to plant them out into the soil? I'm in the Greater London area. If not, is it okay to keep them like this indoors for a week or two?
Sorry for so many questions!