Forum home
›
Plants
In praise of Heuchera Paris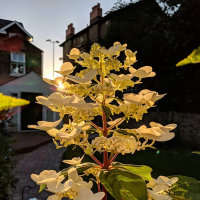 amancalledgeorge
Posts: 2,309
Hi all,
I thought I'd share my love for the heucheras Paris I planted six last year to edge the semi circle of our new deck nearly a year ago. It has grown to become such a lovely row and this year with nearly double the flowers. Just love it and it's so great that so many more varieties of heucheras are so readily available to buy than five years ago. 
Do you grow any heucheras and which varieties do you favour? 
Also love Palace Purple which is edging the other side of the deck and Ginger Ale that captures light in the most beautiful way.
Apologies for the dreary light...not particularly sunny this morning!
To Plant a Garden is to Believe in Tomorrow