Forum home
›
Garden design
Trellis conundrum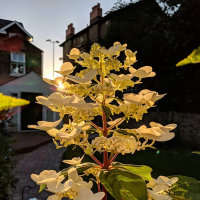 amancalledgeorge
South London
Posts: 2,242
Hi all,
I've been scratching my head for weeks trying to figure out a way to fix a trellis to our aluminium colourfence fence. Colourfence make these seamless aluminium permanently painted fences and we love ours, but make it very difficult to have a climbing rose on it.
Have considered colour matching trellis panels, but think it will look clunky.
Have considered having metal frames made with galvanized wires put in to help the rose climb.
Considered having PVC coated garden fencing mesh used...but the fixing would be tricky as I'd rather not make any holes in the structure as it would compromise it.
Do any of you clever people have any suggestions? All ideas gratefully accepted. 
Here are a few pictures to give you an idea 
Here's the website of them to give you an even clearer idea: 
https://colourfence.co.uk/
To Plant a Garden is to Believe in Tomorrow