Forum home
›
The potting shed
Thoughts/discussion on nematodes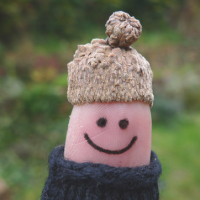 wild edges
The north west of south east Wales
Posts: 4,071
Just dragging this discussion out from another thread as I'm hoping to get some better advice and thoughts from people.

I've been cautious of nematodes for a while because of their broad range of target species and their potential impact on soil health due to killing non-target organisms which perform valuable roles in gardens. In theory there should already be populations of nematodes in a healthy garden and you're just boosting the numbers by using commercial drenches. How long do the boosted numbers last though as the nematodes don't always need prey to survive apparently unlike your natural garden predators.

For example slug nematodes
https://en.wikipedia.org/wiki/Phasmarhabditis_hermaphrodita
target all species of slugs and snails not just the main pests and this will surely have a knock on effect in terms of food for other wildlife such as thrushes and hedgehogs as well as removing the gastropods that are doing good work breaking down rotting plant matter all over your garden. It also targets the slugs that eat other slugs. There are over 30 species of slug and over 100 species of snail and I imagine only 10 or so of these are garden pests.
"Parasitic nematodes seek out insects harmful to garden plants, shrubs and trees in their soil-borne stages and destroy them from the inside out. Present in soils throughout the world, these microscopic, non-segmented worms destroy over 200 types of insects that mature in the ground"
"Nematodes do not prey on ladybugs, earthworms or most other beneficial insects."
A target of one or two pests and 198 other insects are effected and it's considered safe for use? This just seems very poor marketing to me as most companies don't mention these crucial facts and Google has an annoying habit of prioritising commercial marketing over scientific research results. However I'm faced with a minor plague of vine weevils at the moment and they're causing a lot of problems and I'm losing plants. For physical control I have to empty every pot and strip plants that are affected back to bare root and even them I've found grubs hidden in root cavities. One adult can lay several hundred eggs and I've found pots with up to 40 grubs. The fact that they're only a problem in pots shows how important soil ecology is though surely?