Forum home
›
Problem solving
Dealing with a vine weevil attack on a sedum during winter?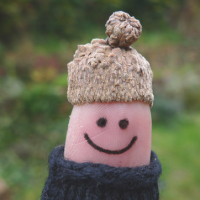 wild edges
The north west of south east Wales
Posts: 7,526
I was checking over a few plants in the greenhouse yesterday to make sure they weren't too damp or going mouldy etc. One of my sedums (hylotelephium stardust) was going mushy on a couple of shoots and after scraping the top layer of soil away I found the dreaded vine weevil grubs in there munching away. I removed all the loose soil and found maybe 20 well fed grubs (that were welcomed warmly on the bird table) but I can't remove any more soil manually without disturbing the roots of the plant. With the plant in dormancy do I risk leaving it with grubs still in there until it wakes up or should I wash off all the soil now and repot into dry soil? I don't think I'd loose the plant if the roots were eaten but I'd have to repot the shoots and start from young plants again, and there's the risk that they could munch up through the shoots and rot them as well. I'm concerned though that if I damage the roots they won't dry and calous properly and end up rotting underground anyway.

Now I'm just wondering what else those little bu**ers are eating
A great library has something in it to offend everybody.