Forum home
›
Problem solving
Corkscrew hazel and rose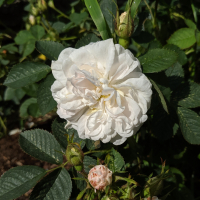 jonathan.cole
Posts: 221
We bought a house in October last year. There is an established corkscrew hazel and pink rose which are growing through each other.
The hazel looks unhappy and has had curled and discoloured leaves all year. The rose grows through the hazel (see attached) obscuring the corkscrew shapes.
I am really quite an amateur gardener, so advice would be welcome. Ideally I'd like to save both plants, but make the shape of the hazel much more visible.