Forum home
›
Plants
Can anyone identify this plant?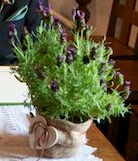 hawk and rose
Posts: 18
I saw this in a magazine and they have put it underneath an Olive standard. I have 2 Olive standards and are bare underneath. Really love the idea on this page. But doesn't tell me what the plant is. 
Many thanks for for your help.