Forum home
›
Plants
Fern colour differences.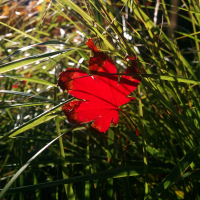 micearguers
Posts: 625
The picture below is of three Polystichum braunii (Braun's holly fern), bought at the same time at a garden centre. The middle is in soil, the rightmost one is in a section of fairly decayed wood, and the one on the left is in less decayed wood. They are in the same spot and receive similar light levels and to me seem equally healthy (but I could be wrong). I assume the different mediums that they are in have led to the different colours.
@Paul B3
, I thought this was interesting in the light of my recent request for a fern ID. Another thing is that I often find ferns difficult to photograph with my (phone) camera. The colours lose intensity, more so than with pictures of other plants and flowers. In this case too the colour is less vivid, but the differences are reflected fairly well. Looking online, all these colours seem to come up when searching for P braunii.