Forum home
›
Problem solving
Crocosmia confusion and different growth rates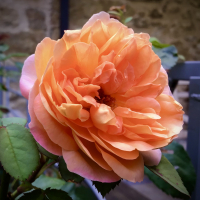 Nollie
Posts: 7,326
Apologies for the barrage of questions, I do hope I am not trying your patience too much of late!
problem 1
- I have managed to confuse a load of potted Crocosmia Lucifer and Masonorium corms following a poly tunnel tidy
they are only small shoots at the moment, but is there any way of telling them apart from the developing foliage or will I have to wait until they flower before planting them out in the border? Will they survive in 9cm pots that long? 
problem 2 -
my other perennials for the same border have wildly different growth rates, the 20-30cm high salvias are desperate to go out, some Agastache are 20cm high but their pals of the same sort are only 5cm, Heleniums and Echinaceas only 5cm too, Crocosmia 3cm.
I had planned on setting them all out together so I could work out where everything would go - should I do that then plant the lot, babies and all, and hope they catch up/survive?
Alternatively, would it be better to set them out where I think they should all go, mark the spots then return all but the well developed ones to the poly for another few weeks?
I'm torn between the two options, so any advice gratefully received!
Mountainous Northern Catalunya, Spain. Hot summers, cold winters.