Forum home
›
Fruit & veg
HOW DO YOU COOK YOURS?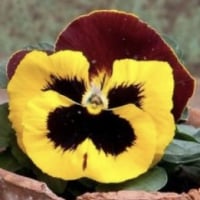 pansyface
Posts: 21,909
I HAVE FOUR COOKING APPLE TREES IN FULL FLOW JUST NOW, BRAMLEY, GOLDEN SPIRE, KESWICK CODLIN AND LANE'S PRINCE ALBERT. NONE OF THEM NOTED FOR SWEETNESS. 
SO MANY APPLES TO FIND HOMES FOR, IN FACT, THAT I HAVE BEEN PUTTING THEM OUT ON THE DRIVE WITH A NOTE TELLING PEOPLE THAT IF THEY WOULD LIKE TO HELP THEMSELVES THEY ARE VERY WELCOME AND IF THEY WOULD LIKE TO THEY CAN MAKE A DONATION TO A NAMED CHARITY BY PUTTING SOMETHING IN THE BOX.
TODAY, A GROUP OF DUKE OF EDINBURGH "LIKELY LADS"  CAME PAST AND I HEARD THEM TALKING ABOUT THE APPLES. I FEARED THAT THEY MIGHT DO SOMETHING MISCHIEVOUS SO I POPPED MY HEAD OVER THE WALL JUST IN TIME TO SEE ONE OF THEM ABOUT TO TAKE A BITE OUT OF A BRAMLEY.
I ADVISED THE YOUNG MAN THAT HE WOULDN'T ENJOY IT VERY MUCH AS IT WAS A COOKING APPLE. HE ASKED IF HE COULD TAKE IT WITH HIM. I SAID THAT HE WAS VERY WELCOME TO IT BUT NOT TO TRY AND EAT IT RAW.
"OH, NO", HE SAID, "WE'RE CAMPING. WE HAVE LOTS OF HOT WATER." 
AND OFF THEY WENT.
I HOPE THEY ARE ENJOYING THEIR BOILED APPLE.
Apophthegm -  a big word for a small thought.
If you live in Derbyshire, as I do.